Behavioral health center in Miami, Florida
Aventura Hospital and Medical Center provides adult and senior patients with a wide range of behavioral and mental health treatments at our Sunrise Palms facility. Our multidisciplinary team of behavioral health specialists provide a variety of inpatient and outpatient services.
If you feel that someone is a threat to themselves or others, call 911.
As a designated Baker Act facility, our mental health care providers help individuals in need of emergency care and/or temporary detention for mental health evaluation and treatment, on a voluntary or involuntary basis.
All Aventura Hospital and Medical Center behavioral health programs are staffed by multidisciplinary teams of licensed professionals including psychiatrists, registered nurses, clinical social workers and dietitians.
Mental health professionals who are looking for a private yet comfortable environment for their patients will find Sunrise Palms meets the needs of even the most discerning individual.
Personalized behavioral health services
Our team of behavior health specialists at Sunrise Palms offer coping strategies and individualized care to patients experiencing:
Depression
Grief and loss
Panic and anxiety disorders
Trauma recovery
Bipolar disorder
Relationship issues
Family conflict
Dual diagnosis
Acute psychological disorders
Mood disorders
Psychosis

Inpatient mental health care program
Our 56-bed inpatient behavioral health facility provides patients with a calming, comfortable environment wherein patients participate in one of three programs:
Acute inpatient unit
General psychiatric inpatient unit
Inpatient treatment center
Electroconvulsive therapy
Our mental health care facility offers electroconvulsive therapy to patients experiencing severe cases of depression or mood disorders. This treatment involves a brief electrical stimulation.
If you need to talk to someone or request an appointment with our behavioral health services specialists, please call (305) 682-5245. Our unit accepts most forms of insurance including Medicaid and Medicare.
Behavioral Health Mindfulness Programs (BHMP)
Aventura Hospital and Medical Center's Behavioral Health Mindfulness Programs use a multidisciplinary approach to help support patient behavioral change and recovery. These comprehensive programs promote awareness and interpersonal exploration.
Mindfulness is a psychological state of awareness. Through our Behavioral Health Mindfulness Programs, we strive to help our patients gain awareness of their own thoughts, feelings, behaviors and bodily sensations. By helping our patients gain awareness, we help them identify the triggers for their symptoms and help them develop effective coping skills.
Our Behavioral Health Mindfulness Programs' mental health specialists use evidence-based approaches for the treatment of mental health issues and addiction.
Behavioral Health Mindfulness Programs run three days a week. The specific times for each of the tracks are as follows:
Track Blue: Monday, Wednesday and Friday, 9:30am to 1:00pm
Track Green: Monday, Tuesday and Thursday, 10:30am to 2:00pm
Track Yellow: Tuesday, Thursday and Friday, 10:30am to 2:00pm
Addiction treatment at Sunrise Palms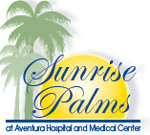 Sunrise Palms provides a beautiful and unique treatment setting for individuals experiencing mood, anxiety or mental health disorders caused by addiction. Our treatment addresses issues related to both psychiatric symptoms as well as alcohol and chemical dependency
The program at Sunrise Palms incorporates the following components:
Individual counseling
Mental health groups
Chemical dependency groups
Recovery and sobriety groups
Family therapy
Psychiatric care and interventions
12-Step Program education and meetings
Medication management
Detox services
Daily consultations with psychiatrist
Psychological testing as needed
Discharge planning
Information, referral and coordination wit after care programs
Geriatric psychiatry at Sunrise Palms for Seniors
Aventura Hospital and Medical Center hosts Aventura's newest inpatient senior behavioral health program at Sunrise Palms for Seniors. Our spacious, 12-bed unit is located in its own discreet wing to ensure privacy, confidentiality and comfort.
Our program was designed with the unique needs and interests of patients 65 years and older in mind. We strive to help our senior patients cope with the behavioral health symptoms that are interfering with their daily lives.
Behavioral health locations
Retrieving location data...