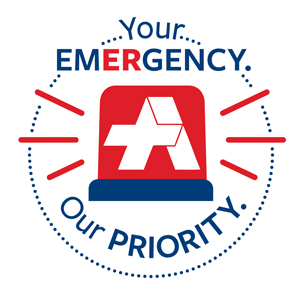 If you think you may be experiencing a medical emergency, immediately call 911.
Emergency Care Near You
The emergency room is where many patients first interact with the experienced emergency care team at Aventura Hospital and Medical Center. For that reason, we are constantly focused on improving the effectiveness and efficiency of our ER. One way we do this is to work closely with local fire departments and rescue teams to ensure a seamless transition of care during an emergency. We have also streamlined communication within our departments, and offer our patients newer and better ways to contact us.
Emergency Room Expansion
Our ER is open and growing to meet the emergency care needs of our community.
Aventura Hospital and Medical Center continues to grow its capacity to meet the emergency care needs of our community. In May 2016, the hospital broke ground on a $75.6 million expansion project to increase emergency room capacity and bring a new patient tower and parking garage to Aventura Hospital and Medical Center. Today, the hospital is gearing up to unveil in May 2017 the expanded emergency room area, which will double the hospital's current emergency room footprint with the addition of twenty-two new rooms, including fourteen general exam rooms and two isolation rooms, and state-of-the-art technology for rapid emergency and trauma care response.
Construction Progress
Topping-Out and Framing
The construction of Aventura Hospital and Medical Center's expanded emergency room area is on schedule and was commemorated at a Topping-Out and Framing celebration offered by the project's construction management firm, DeAngelis Diamond Healthcare Group on October 28, 2016.
The last structural beam of the new emergency room expansion area was signed, symbolizing the completion of the structural framing of the space. Over the next five months, the interior layout of the expanded emergency room area will be completed with community tours planned for early April 2017.
What to Expect When You Come to the ER
Whether you need care during the day or "after hours," you can expect the highest level of care and attention in our emergency room. Here is the process we follow to make sure you get the best care possible, as fast as possible.
Triage
When you arrive in our ER, a triage nurse will assess your needs and check your vital signs. The order in which you are taken to a room and seen by a doctor will depend on the severity of your needs, as determined by the triage nurse, as well as your arrival time. In severe or extreme cases, you will be taken to the treatment area immediately.
Registration
Our registration clerk will obtain information for your medical record, including billing information. The registration clerk will also get authorization for treatment from your insurance company. The registration and insurance verification process will not interfere with or delay your treatment. You will be medically screened, evaluated and stabilized regardless of your insurance status or ability to pay.
Waiting Room
If your condition is less severe and you are stable, you may have to spend some time in the ER waiting area. We will make sure you are as comfortable as possible while you wait. We also have a wait time monitor located in the waiting room which updates regularly to show the approximate wait times for each patient.
Faster, Easier ER Check-In
We are continually advancing the patient check-in process with new technologies, which is why our emergency healthcare delivers you the same level of convenience as leading retailers, airlines, and hotels. Our ED KIOSK (Emergency Department Kiosk) makes the check-in process simple. At the kiosk, patients can enter the reason for their visit, then manually enter their information or scan in their Florida driver's license. This information automatically puts the patient in the queue for the triage nurse to evaluate and also captures the information for the patient's medical record.
Our ER Wait Times
Our focus on enhancing care while improving the emergency care process has dramatically reduced our ER wait times to below national averages. Wait times are updated every 30 minutes and are available on our website and digital screens on roadside billboards throughout the region.