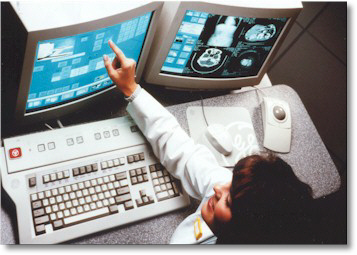 A $1.2 million state-of-the-art computed tomography (CT) scanner was recently added to the radiology department at Aventura Hospital and Medical Center. The new spiral CT system promises to expedite the exam process, improve the image resolution and add to the range of diagnostic imaging procedures offered at the hospital.
According to Shlomo Leibowich, M.D., an Interventional Radiologist on staff:
"The HiSpeed CT/i has a new highly interactive graphic operator interface with an extraordinary range of automated capabilities. This means that technologists can set up and conduct even the most complex CT exams with just a few simple clicks of the computer mouse. This new scanner eliminates many of the routine, repetitive and time-consuming tasks faced by our technologists and allows them to spend more time providing quality patient care."
The HiSpeed CT/i system, manufactured by GE, is also an extremely fast system. One of the key elements of this speed can be found in its helical scanning capability. Helical scanning allows radiologists to acquire large amounts of diagnostic data very quickly and easily, while the patient makes a single pass through the CT gantry. This speed provides two direct benefits including a shorter exam time for the patient and better diagnostic information for the physician. A second key element of the system's speed is due to its multi-tasking capabilities, meaning its ability to do more than one thing at a time. So, while scanning a patient, the radiologist can call up images from a previous exam and view them simultaneously.
S. Ronit Anidjar, M.D., a Musculoskeletal Radiologist on staff, feels "this unit has the latest software to ensure optimum intravenous enhancement of the studied structures. It offers 3D reconstruction capability of soft tissue structures and bones, as well as CT Angiography."