For additional information, please contact the Behavioral Health Services intake department at (305) 682-5245.The unit will accept most forms of insurance including Medicaid and Medicare.
The Behavioral Health Services at Aventura Hospital and Medical Center offer a wide range of inpatient and outpatient services that are tailored to the patient. Aventura Hospital and Medical Center provides adult acute inpatient psychiatric care, and is a Baker Act receiving facility that will treat a wide range of behavioral health diagnoses.
Clinical Specialties
The Behavioral Health Programs at Aventura Hospital and Medical Center offer services geared to meet the needs of individuals who are attempting to cope with:
Grief and Loss
Panic and Anxiety
Trauma Recovery
Relationship Issues
Family Conflict
Dual Diagnosis
Inpatient Treatments for
Acute Psychological Disorders
Mood Disorders
Psychosis
Detox services associated with
co-occurring disorders
Our Programs
All behavioral health programs at Aventura Hospital and Medical Center are staffed by a multidisciplinary team of psychiatric licensed professionals including psychiatrists, registered nurses, clinical social workers, dieticians, and other mental health professionals.
Our behavioral health services offer the ability to provide individualized care across three distinct programs in a 56-bed in-patient setting. Designed for each patient's unique clinical needs, the programs include:
Acute inpatient unit
General psychiatric inpatient unit
Sunrise Palms, a high-functioning inpatient unit
Behavioral Health at Sunrise Palms
---
Behavioral Health Mindfulness Programs (BHMP)
Aventura Hospital and Medical Center's Behavioral Health Mindfulness Programs are a set of comprehensive programs that provide a multidisciplinary approach that supports behavioral change and recovery within the context of awareness and interpersonal exploration.
The most basic definition of Mindfulness describes it as the state of being conscious or aware. At the Behavioral Health Mindfulness Programs we strive to help our patients gain awareness of their own thoughts, feelings, behaviors, and bodily sensations in order to better understand themselves and their reactions to their surrounding environment. By helping our patients gain awareness, we then help them identify the triggers for their symptoms and work with them to help them develop effective coping skills.
At the Behavioral Health Mindfulness Programs our psychiatrists, registered nurses, licensed master's and doctoral level clinicians will use evidence-based approaches for the treatment of mental health issues and/or addition.
The Behavioral Health Mindfulness Programs runs three days a week. The specific times for each of the tracks are as follows:
Track Blue: Monday, Wednesday and Friday 9:30 am – 1:00 pm
Track Green: Monday, Tuesday and Thursday 10:30 am – 2:00 pm
Track Yellow: Tuesday, Thursday and Friday 10:30 am – 2:00 pm
Sunrise Palms at Aventura Hospital and Medical Center
An Adult Behavioral Health Program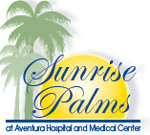 Sunrise Palms provides a beautiful and unique treatment setting for individuals experiencing mood, anxiety, or co-occurring disorders such as drug/alcohol addiction with mental health conditions. Our treatment focuses on addressing issues related to both the psychiatric symptoms as well as any alcohol and chemical dependency issues.
Personalized services are provided in a discreet, confidential setting within Aventura Hospital and Medical Center. Our Treatment Team consisting, of psychiatrists, nurses, mental health and addiction professionals meet with each individual to develop a personalized plan of care.
Mental Health Professionals who are looking for a private yet comfortable environment with an enhanced atmosphere for their patients will find Sunrise Palms meets the needs of even the most discerning individuals.
Clinical specialties addressed at Sunrise Palms include:
Depression
Relationship Issues
Thought and Anxiety Disorders
Drug and Alcohol Abuse Problems
Family Problems
Grief and Loss Issues
Medication Stabilization Issues
An inability to cope with stressors
resulting in self-medication behaviors
Dual Diagnosis
The program at Sunrise Palms incorporates the following components:
Individual Counseling
Mental Health Groups
Chemical Dependency Groups
Recovery and Sobriety Groups
Family Therapy
Psychiatric Assessments
Nursing Care and Interventions
12 Step Education
12 Step Meetings
Medication Management
Detox Services
Daily Consultations with Psychiatrist
Psychological Testing as needed
Discharge Planning
Information, Referrals, and
Coordination with After-Care Programs
The Sunrise Palms at Aventura staff includes:
Psychiatrists
Registered Nurses
Licensed Clinical Social Workers
Licensed Mental Health Counselors
Mental Health Professionals
Addiction Professionals
To refer someone to Sunrise Palms, please call (305) 682-7245.
Sunrise Palms for Seniors
A Dedicated Senior Behavioral Health Program
Aventura Hospital and Medical Center is home to the areas' newest inpatient senior behavioral health program, Sunrise Palms for Seniors. This new program consists of 12 dedicated, primarily private rooms for adults 65 years and older, who have behavioral health symptoms that are interfering with their daily lives. We offer a multidisciplinary approach where compassionate care is delivered in a private and spacious environment.
Our 12 bed unit is located in its own discreet wing to assure privacy, confidentiality and comfort.
We emphasize the importance of instilling hope with:
Group and Individual Psychotherapy
Occupational Therapy
Aroma Therapy
Medication Assessment
Psycho-Educational Group, such as Medication Education
Loss Management and Relapse
Family Support/Education Group
Sunrise Palms for Seniors is a unique inpatient setting, designed for the needs and interests of the older adults, in a comforting and healing environment.
Some of the special features are:
The Unit is equipped with Behavioral Health beds designed for fall risk with scales, and bed alarms.
The bathroom floors are designed to reduce slips and falls with the textured flooring.
Our team of Geriatric Specialists developed group activities tailored to the senior population.
Extended hours to accommodate family time.
Sunrise Palms for Seniors Behavioral Health Unit provides treatment to help you or your loved one achieve relief from the suffering associated with acute psychiatric and behavioral symptoms.
Acute psychiatric and behavioral symptoms include:
Acute and chronic depressive illness
Suicide risks
Severe anxiety, stress-related problems
Delusions
Aggressive or assaultive behaviors
Social withdrawal
Sudden and unexplained changes in behavior
Alzheimer's disease and other dementia with a concurrent psychiatric problem