Message from the Program Director
Hamid Feiz, MD
I am often asked what sets our Internal Medicine Residency Training Program, located at Aventura Hospital and Medical Center, apart from others. The foundation of our program is our dedicated faculty and staff who will provide direction, encouragement, and meaningful evaluations to residents as they master clinical skills and are exposed to unique experiences in community medicine. Our faculty is dedicated to training residents to become the next generation of leaders in internal medicine and its subspecialties. There is tremendous depth in the medical subspecialties at our institution leading to state-of-the-art patient care and wonderful training opportunities for our graduates. Our training program will be the first step toward success on the medical career path of the next generation of internists. Residents will graduate feeling fulfilled in their medical education, and feeling confident in that they can pursue any path they desire upon graduation. We encourage those medical graduates who are compassionate and committed to the highest level of self-improvement and professionalism to contact our program staff. We would be happy to provide you with more information about why our training program may just be the perfect fit for you. We look forward to hearing from you.
For more information please contact our program staff at AHMC.IMResidency@hcahealthcare.com.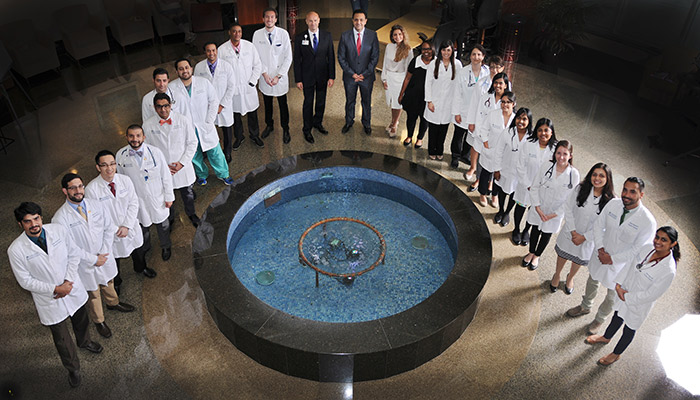 Conferences
Morning Report
Morning Reports are held twice a week Mondays and Fridays from 12pm-1pm. The discussion, which follows, will address important aspects of the history and physical examination, formulation of a complete differential diagnosis, and management of the disease process for the individual patient. In order to effectively discuss each case, the presenter should prepare to answer pertinent questions concerning the patient's work-up, including lab values and test results. Any available radiology studies, EKGs, or slides should be brought to the presentation when possible. The presenter should also have a basic knowledge, obtainable from a textbook of medicine or UpToDate, about the patient's diagnosis. This is not intended to be a morbidity and mortality conference; however, the residents should prepare to defend their decisions and reasoning. Attendance at morning report is required for residents on ward services and encouraged for all others. Residents on continuity clinic week are excused from morning report.
Noon Conference
Noon Conference is held on Tuesday, Wednesday and Thursday from 12-1pm. Noon conference is a mandatory conference for all residents who are present and on-site. The noon conferences consist of a one-hour didactic session on both general medicine and subspecialty topics. Lecturers are faculty members and other subject experts who present topics from a scheduled, strategic 36-month curriculum designed to provide each resident with a broad knowledge base of Internal Medicine. In addition, the noon conferences cover topics in preventive medicine, pain management, end-of-life care, and substance abuse. The conferences are directed at providing information pertinent to the American Board of Internal Medicine (ABIM) certification examination.
Attending Rounds
Attending Rounds: Two afternoons each week the teams meet with their Teaching Attending for Attending Rounds. Two cases should be prepared by PGY-1's for presentation with pertinent diagnostic studies available for scrutiny by the team. The usual format for these rounds includes bedside case presentation, followed by an in-depth discussion of the patient led by the Attending. Groups are encouraged to use alternate forms for Attending Rounds such as physical findings rounds, where multiple patients with important physical findings are seen by the group to allow additional bedside teaching of physical examination techniques.
Morbidity & Mortality
Morbidity and Mortality, a QA/QI conference, is held quarterly. The residents present cases with unexpected or unusual outcomes with the intent to avoid future adverse outcomes and improve the quality of patient care.
CPC
Clinical Pathology Conference (CPC) is held September through April. Every other month, a resident presents his/her "best" case, including the patient's history and physical, laboratory data, and review of the literature and pathology material.
Journal Club
Journal club occurs every other month. This is an established academic exercise in the residency training curriculum to obtain critical appraisal skills, update knowledge on current literature and enhance proficiency in clinical practice.
Board Review Sessions
Board Review Sessions are resident led sessions supervised by Internal Medicine attending physicians. It is held every Thursdays from 5-6pm. A high yield topic for ABIM boards is discussed followed by questions.
Other Didactics & Scholarly Activity
Medical Jeopardy / Trivia and use of an audience response software, which will take place in the afternoon, during the Continuity Clinic rotations
Ambulatory Didactics Series, including access to the John Hopkins Modules
Required QI project
Resident representation on a working QI committee, a sub-committee of the facility's Performance Improvement Committee
Annual workshops at resident orientation and throughout the year:

Ethics in the Workplace
Professionalism and Communication
Resident Resilience: Alertness Management / Fatigue Mitigation
Residents as Teachers
Research Workshop Series

Medical Procedure Simulations
Team Building
The TRAC Program is offered to all incoming residents to encourage team building and skills to optimize team work. The program consists of two complimentary phases. The first is a ground-based "team building" component that is presented in an action oriented experiential learning format. These activities focus on the different areas that can be defined as "team work". These areas include, but are not limited to: planning, time management, collaboration, negotiation, assuming a leadership role, support, and trust. The activities chosen for each group are initially based upon information provided by a needs assessment and any additional discussions with the client, but are also modified as the day unfolds to meet the dynamics of the group.
The second phase of the program is the climbing or high-elements. This is when individuals are given an opportunity to challenge themselves or push their comfort zone allowing them to discover or realize their full potential. Although not as physically challenging as one might think, the high-elements offer different levels of mental challenges. These events include climbing up to a horizontal log, walking on wires supported by hand ropes, or to a zip line. The climber is supported by the "team" who provide the rope safety, ladder support, and encouragement.
Simulation
Simulation Goals and Objectives:
All residents are offered one day of simulation training to get hands-on experience on performing procedures required by the ABIM. The procedures are taught by our dedicated faculty members. Procedures include thoracentesis, paracentesis, central venous line placement, and lumbar puncture. Each resident is given the opportunity to practice each of these procedures. Residents also receive ACLS and BLS training during which they have the opportunity to learn and practice intubation skills.