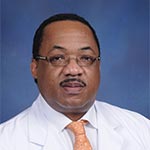 Bryan H. Curry, M.D., FACC, FASNC
Thank you for your interest in our program!
The goal of the Cardiovascular Disease Fellowship is to prepare trainees for a long career in cardiovascular medicine. Fellows will be prepared for clinical practice, academic pursuits, and/or advanced fellowship training. Critical to this goal is a solid foundation in clinical cardiovascular disease in all areas through the rotations provided during the three-year fellowship program.
Our faculty and staff are committed to providing you with an excellent education and assisting you in achieving your career goals. We look forward to working with you.
Bryan H. Curry, M.D., FACC, FASNC
Program Director