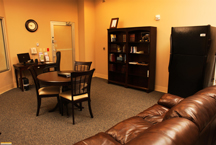 The Gesher Tzedaka & Yehuda Memorial Jewish Family Room is available to family members who have loved ones under hospital care. The room has a fully stocked kitchen, reclining couches, bookshelves with Siddurim, Tehillim and other reading materials, telephone and computer services are available as well.
Gesher Tzedaka & The Yehuda Memorial Center are social service organizations that provide assistance to families and patients in local South Florida Hospitals. Gesher Tzedaka's & Yehuda Memorial Center's philosophy is to help the less fortunate in their time of need.
Gesher Tzedaka and Yehuda Memorial have a 24-hour hotline and a team of skilled volunteers who regularly visit with patients and share warm thoughts and caring sentiments. Rabbinical guidance and spiritual direction is also available upon request.
Please contact us for Shabbat and Holiday Meals.
For more information please call (866) 9-GESHER or (866) 943-7437.
To contact the Gesher Tzedaka Rabbi, please page (954) 259-1000.
Location:
Aventura Hospital and Medical Center
Jewish Family Room
North Tower 7th floor
20900 Biscayne Blvd
Aventura, FL 33180