If You're the best and the brightest, HCA East Florida Division wants you to enroll in a training program to prepare nurses to work in emergency and critical Care service departments.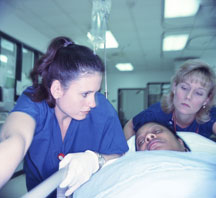 This course is for the experienced nurse in transition or the new graduate nurse with prior healthcare experience seeking opportunities for professional expansion and development in the critical care or emergency room environments.
The 10 to 15 week course introduced the CCRN and ENA standards of practice and covers all the components of the role of the critical care or ED nurse. A blended approach to learning consists of on-line and face-to-face classroom activities:
Simulation
Case studies
Lectures
Followed by extensive clinical preceptorship
This cutting edge, interactive, learning environment accelerates the time typically required for a new nurse to become confident with their newfound nursing skills. Qualified applicants must have a current Florida license and the ability to commit to two years of full employment.
Nurse Specialty Program Schedule
Emergency Department Course: TBD
Upon completion students will have received:
First Triage
ACLS (If needed)
PALS Certification
CPR Certification
Stroke Certification
TNCC Certification
CPI Certification
ECCO
7 Weeks – ED Didatic
5 Weeks – Clinical Preceptorships on Units
Critical Care: TBD
Stroke Certification
Head to Toe Assessment
ECCO
4 Weeks – Didatic
5 Weeks – Clinical Preceptorships on Units
Nurse Specialty Course Benefits
Competitive Salary and Benefits while you learn
Re-location Assistance provided greater than 50 miles
For future consideration, please go to the Careers page, click Search Jobs, and enter Job Number 01643-9191.