 Aventura, Florida – Aventura Hospital and Medical Center (AHMC), a facility of HCA East Florida, has been designated as a Level II Trauma Center by the Florida Department of Health. Aventura Hospital and Medical Center has been providing a needed access point for trauma care in northern Miami-Dade County since May 1, 2015 as a Provisional Level II Trauma Center. The hospital is also part of Florida's first statewide network of trauma centers, developed as an affiliation between the University of South Florida and Hospital Corporation of America (HCA) to improve access and outcomes of injured patients throughout the state.
Over the past fifteen-month provisional period, 2,301 trauma patients have been treated by Aventura Hospital and Medical Center's specialized and multi-disciplinary trauma team under the direction of Mark Cockburn, MD, MPH, Medical Director of Trauma.
"Becoming a Level II Trauma Center has been a team effort and has brought a tremendous amount of expertise to our hospital. Having Dr. Cockburn at the helm of this exciting journey has allowed us to expand our hospital's capability to provide 24 hours a day trauma coverage and further meet the needs of our community," says Dianne Goldenberg, Chief Executive Officer of AHMC.
Earlier this year, AHMC held its Inaugural Trauma Survivors Day event on May 17, 2016. The memorable occasion provided a venue for trauma survivors and their families to meet the clinicians who were part of their care and continue with their healing process. "When I see a trauma patient's courage to face a challenging situation, it is very rewarding to see them get better and return as functional members of society. Our trauma team truly makes a difference by addressing not only the traumatic physical and medical needs of our patients but their emotional stress as well," says Dr. Cockburn.
In addition to our Trauma Center, AHMC recently announced an additional expansion of services. The landmark project will include a new patient tower, a parking garage, and emergency room expansion, all part of a major $650 million capital investment by HCA East Florida, a division of HCA.
Aventura Hospital and Medical Center is a facility of HCA East Florida. HCA East Florida is the largest healthcare system in Eastern Florida and an affiliate of Hospital Corporation of America (HCA). HCA East Florida has 14 hospitals, multiple ambulatory surgery centers, physician practices, imaging centers and free standing emergency care facilities, as well as a supply chain center and an integrated regional lab. Together, HCA East Florida employs more than 18,000 employees and has nearly 7,000 physicians on staff. For more information, visit HCAEastFlorida.com.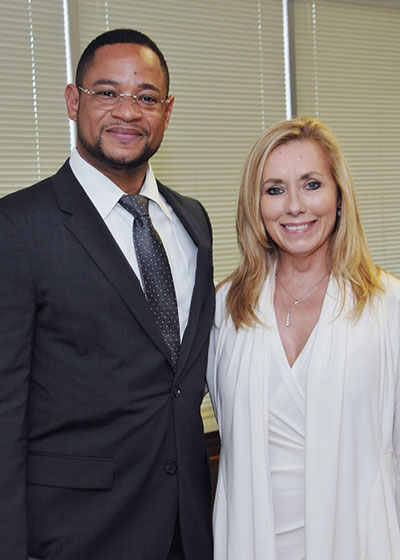 Attached Photo: Mark Cockburn, MD, MPH, Medical Director of Trauma, AHMC and Dianne Goldenberg, Chief Executive Officer, AHMC
News Related Content